Yesterday Rockk Video was part of the production team for a corporate round table  webcast for a Fortune 100 company. This video production entailed three cameras to capture a four person round table discussion that was moderated by the corporate CFO. We took a bland conference room and turned it into a decent looking studio arrangement for the client. This included having a large monitor on set for he client to refer to the slide deck for the cast. The two HD cameras recorded the participants while the third camera (DV) captured the slides for editing into the program. The HD cameras recorded onto external SSD drives in ProRez 442 resolution.
This is an example of the type of corporate video production that Rockk Video is capable of producing for clients. It takes careful onsite planning to get the room to look right, careful cooperation with the client to make sure they are happy with the look and feel of the production, and most of all completely professional behavior on set so that the client and the participants are at ease and confident in the production.
Here is a shot of the set before we rolled the webcast: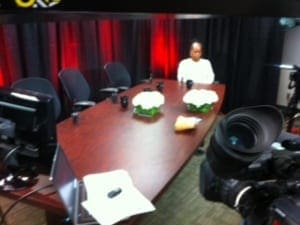 So if you need a team of professionals to record your corporate video let Rockk Video help shape and record your production.