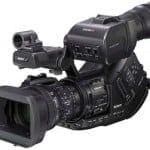 Many clients these days are moving over to shooting in HD and as you may know there area variety of formats to utilize these days including those which shoot on tape, flash memory, and now optical disc. But one of the very affordable cameras that is very popular right now and yet which can produce great HD video is the Sony PMW EX3 XDCAM HD camera. This light weight Sony camera can shoot in full 1080p HD onto SxS Express memory cards. It also can mount different lenses so you can have flexibility if you need it for various shots on your project.
Rockk Video can shoot your HD video project here in the Bay Area using the Sony EX3 HD camera. We have the ability to transfer the digital media to your hard drive on location, on your memory cards on the shoot, or create a back up media for you after the shoot is complete. Very flexible and versatile.
Here is some of the product info on this camera*:
The PMW-EX3 compact camcorder with an interchangeable lens system incorporates three ½-inch type Exmor™ Full HD CMOS sensors, each with an effective pixel count of 1920 x 1080, delivering stunning-quality HD images in 1080P, 720P, and 1080i HD resolutions. A rich variety of features for creative shooting are incorporated into this camcorder such as "Slow & Quick Motion", which is also commonly known as "over-cranking" and "under-cranking", selectable gamma curves, slow-shutter, interval recording and the Picture Profile™ feature. Additionally, the PMW-EX3 offers a convenient remote-control and multi-camera operation capability, which allows use with high-end camera systems.
? Compact camcorder with an interchangeable lens system,
allowing use of 1/2- and 2/3-inch type lenses*
? Three 1/2-inch type Exmor Full HD CMOS Sensors, each with
1920 x 1080 pixels
? Professional manual focus and auto focus operation
? Slow & Quick motion capability
? 3.5-inch type** color LCD viewfinder
? HD-SDI output, down-converted SD-SDI output, i.LINK (HDV
stream) input/output, analog composite/component output
and USB interface (USB 2.0)
? Built-in gen-lock input, timecode input/output and remote
control interface for multi-camera operation
Here is some product info on the memory:
The SxS PRO Memory Card
The SxS PRO memory card adopted by the XDCAM EX series for recording is an ultra-compact nonlinear medium that uses flash memory, and is based on the SxS™ memory card specifi cation. The SxS PRO memory card achieves an extremely high data transfer speed of 800 Mb/s*, allowing users to quickly transfer recorded footage to a compatible PC or nonlinear editing system.
Contact us today to schedule your HD shoot in the San Francisco Bay Area or Northern California area.
source: sony