Fire Arts Festival Coverage for G4's "Attack of the Show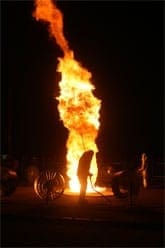 The Crucible is an Oakland, CA based organization that teaches classes in blacksmithing, welding, glass blowing, and a whole host of other interesting industrial arts skills in a way that is nothing like your old high school shop classes. They do it with flair and with style. Each year they put on a couple of fund raising events to keep the doors open. One of the is the "Fire Arts Festival" where they take over a ten acre parking lot in West Oakland and basically let fire roar. Artists bring their sculptures and art work that literally breathe fire and show them off for an adoring crowd.
It makes for quite and evenings entertainment. G4 came to town for this years show for a segment on their "Attack of the Show". We lived fire with their host Blair Herter who even dared to swallow fire on camera….
This was a Beta SP (Ikegami HLV55) shoot for this client.