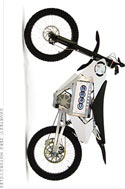 Recently we did a shoot for CNNMoney/Fortune about an all electric off road motorcycle made by Zero Motorcycles of Scotts Valley. They make a lightweight, battery powered dirty bike that has so much torque I was shocked. This bike is amazing. Fast and quiet. No screaming engine of typical dirt bikes. The only noise is the chain. We had fun shooting this piece.
Zero Motorcycles, a startup based in Scotts Valley, Calif., began shipping a smaller, dirt-bike-like electric motorcycle in January 2008.
The Zero X ($7,450) is intended for off-road use. An eight-employee company founded by former NASA project manager Neal Saiki, Zero will soon offer the Zero S, a hybrid road/off-road dirt bike, which should be available in the next few months. A scooter called the Zero Way is also in the works, with an expected 2009 ship date. Saiki, 41, plans to compete with Brammo on technology as well as price. Zero's patent-pending lithium ion batteries are three times as powerful and 31% lighter than those in the Enertia, while offering the same running time.