Moonrise Productions – Univ of Arizona Football vs Stanford
Atlantic TV/Al Jazeera – Iran Revolution Documentary
Stanford University
UC Berkeley
Atlantic TV/Intl. Rugby – Rugby History Documentary
Berkeley CA
St Helena CA
SF CA
A&E – Biography – Ed Kemper
CNNMoney.com/Fortune
Concours d'Elegance – Pebble Beach CA
Intel CEO Craig Barrett – Jon Fortt
Dell Latitude Launch
ATVI "Heroes Among Us":
Monterey
SF
Sacramento
CNNMoney.com:
"Amy's Kitchen" – Santa Rosa CA
"Diggler" – Fairfax, CA
"Monster Cable" – Brisbane CA
ATVI – LA "Heroes Among Us" Lodi Ca
Comcast Sports Chicago – Cubs Baseball
Got2Know
Rockk Video has an ongoing relationship to shoot segments for Got2Know which is a start up web site aimed at providing relevant life skills information to teens and young adults via 100% positive videos. We have shot a number of segments for them on how to become an author/animator/scientist/publisher and more.
CNNMoney.com
Recently we have been doing work for CNNMoney.com on shoots for their collaboration with Fortune magazine. Here are some links to the segments:
Electric Motorcycles
Google's strategy tax
Google to store health records
HP revamps lab unit
The game of life
A preview of the videogame Spore, which lets users design a universe from single cells to solar systems.
CNN American Morning
Shot last week with them for a series of stories dealing with Asian American Month. The host for these stories was Yul Kwon the winner of CBS's Survivor. Yul explored the roles of Asians in the media (film/TV) and college admission standards for Asian students in these shoots in San Francisco. Air date is mid May 2007
CNN International Future Summit
We helped shoot this event at Stanford University. It was a five person panel discussion hosted by Kristie Lu Stout which delved into the fascinating issue of online virtual worlds and the implications for our society. Air date is June 13th 2007 on CNN International
CNN Global Challenges with Host Daryl Hannah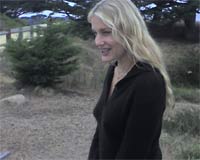 We recently shot an episode of CNN International's Global Challenges that focused on global warming. CNN brought in actress Daryl Hannah to host the show. Shoots were in Monterey CA and Vancouver Canada on this week long project.
Daryl was fun to work with and showed great promise as a show host. She is currently spending lots of time working on her video blog that deals with issues of protecting and preserving the planet. Check out her blog at www.dhlovelife.com
On the set of Corkscrewed (working for McWilliams Productions)- New Fox Reality Show
The producers of American Idol and other huge TV shows bought a winery with their hard earned cash. Then they found out things were not right in the wine business at thier new ranch(lost contracts, rodents, dead owls, and so on). So they decided to make a reality show out of their travails. They were a couple of very funny guys to interview.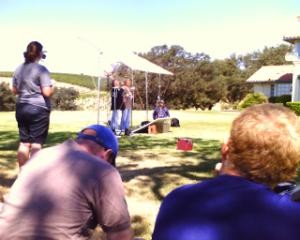 Interviewing Jim Marshall (working for McWilliams Productions)(icon photographer for many years in rock and roll) for an upcoming documentary called "27" which deals with the legends of Jimi Hendrix, Janis Joplin, and Jim Morrison.
The Virgin America launch of their new airplane nicknamed after the legendary SF band "Jefferson Airplane" . Gov Schwarzeneggar, Mayor Newsom, and Grace Slick on hand for the ceremony.